Post by Isles of Nixon on Jan 31, 2012 21:42:57 GMT -5
Good evening and welcome to Inside the Islanders' Studio, an up-close and personal look at our islanders, in the mold of "Spotlight" and "Eyes On..." Every few weeks, another islander will be featured. Bear with me, I'm getting everything together, using some boilerplate questions for now with hopes of transforming it into a deeper look into our fellow nations.
Tonight, I'm pleased to have with us, the indelible Mayor of Taco Island,
Shelter from the Storm
. I thank him for joining us in the studio this evening.
IoN:
Before we get to the knitty-gritty, when did you first sign up on Nationstates and when did you come to the 10000 Islands?
Shelter:
You'd think this would be a straightforward thing to answer. I first came to NS (and also 10KI in late 2008 or early 2009. When I first attempted to create a nation I spent about an hour trying to find a nation name that had not already been taken. I was taking a languages class at the time and they were attempting to teach us how to read Greek and Hebrew. I finally chose two biblical names that started with the same initials as my RL name.
So, at first, I was AaronMoshe. Stupid name and I really hated it.
I found 10KI shortly after I realized there were regions and also defenders and invaders. I sure as hell knew I didn't want to be an invader, so it wasn't long before I found 10000 Islands. Some time after that I changed my name to Shelter from the Storm - yes, in honor of Bobby Zimmerman, known to most as Bob Dylan.
IoN:
What were your first impressions of the Islands?
Shelter:
I don't think anyone would be surprised that I immediately gravitated to Taco Island. My RL job is very serious. There is seldom any room for silliness, although a good sense of humour is an asset. After a hard day (and on occasion, during a horrific day) at work, nothing was better than role playing an irresponsible, corrupt, nasty and sexually omnivorous cad in Taco Island.
So, my first impression of 10KI was a fun place to unwind. I soon got involved in TITO and to me that was just part of participating in this community I had found. I am both a terrible and good soldier. Good, because I can and will blindly follow orders from a TITO superior and bad, because I really don't have a fundamental understanding of the 'geopolitical' environment of NS other than knowing deep down that invaders are aggressors and unwelcome by their victims and that I have a fundamental hatred towards aggressive idiots and bullies.
IoN:
What are some of your favorite aspects of the region? Least favorite?
Shelter:
It should come as a surprise to no one other than the newest newbie that my favorite aspect of 10KI is Taco Island.
Frankly, there is so much in 10KI, from the university, to government, to role playing and, of course, the jewel that is Taco Island, there really isn't much to not like. My least favorite? The RP area, I guess, not because there is anything wrong with it, but because it simply doesn't tickle my fancy (and you all know how much the Mayor loves having his fancy tickled...).
IoN:
In your opinion, how has the region evolved since you joined in 2009?
Shelter:
Some personalities have come and gone. There are several CTE'd nations that I miss, but they have been replaced by others who I consider friends in spite of my never having met them in RL. One of the nice things is that things do not change dramatically. For this, I am grateful to Grub's leadership. I have seen several online communities self-destruct due to political struggles. 10KI seems to have a functioning democracy that Grub seems to manage with aplomb.
IoN:
What has been the biggest challenge as Mayor of Taco Island?
Shelter:
Knowing when to shut up! I see my job as allowing the denizens to have fun. And that means letting them go on without quelling the chaos. Occasionally, I will insert an idea for a new activity or thread, but the best new threads come from natives. Of course, all the repairs to the various bars and public buildings can be expensive, so ensuring the continued tax revenues is also an important tax. And, please note that I have never, ever, been convicted of re-routing significant portions of those revenues to my off-shore bank accounts. Neither, of course, is it easy for me to survive without significant graft and bribes.
IoN:
As I ask this question, a majority of islanders polled say that you're hiding under their bed…my question is, how can one person be under so many beds at the same time?
Shelter:
Practice! And, of course, a great deal of dedication.
IoN:
Do you think the Mayor of Taco Island should be an elected position or remain an appointed one and why?
Shelter:
Wow, you know how I hate serious questions. The Mayor serves at Grub's pleasure. His job is to foster participation and to make all comers feel welcome. Occasionally, and it really doesn't happen often, he needs to rein in a denizen if s/he gets too abusive, racist, disrespectful, flaming or trolling.
Looking at the history, Grub has appointed good Mayors who did their job well (with the possible exception of Yours Truly), so I guess we're good without elections. Of course, needing to be re-elected would really cut down on my ability to line the interior of Gilda's hut with solid gold wallpaper.
IoN:
"Shelter from the Storm" – I assume that's an homage to Bob Dylan?
Shelter:
Yup, I've been a diehard fan since I saw him in concert in 1969. (Did I just give my age away?) I could have called my nation DeadHeads as well, I suppose, in token of my fondness for Jerry Garcia and the Grateful Dead... And unlike Bill Clinton, I inhaled.
IoN:
It's 2015 – what's the status of Shelter from the Storm? Is he still Mayor of Taco Island? What's the condition of the Islands?
Shelter:
If Shelter is still the Mayor, I may have to shoot him! I intend to step down and retire to Gilda's hut where I will manage the billions of Tacos I have secreted away in a bank account in the Cayman Islands. Our Islands, of course, will be economically ravaged due to my tax pilfering, but I don't really care because my last act will be to give myself a full pardon.
IoN:
Have you gotten to know many personally outside of the forum i.e. AIM or MSN?
Shelter:
Not even one. It doesn't help that I spend much of my time traveling around northern Canada. Besides, meeting Wala or Boltor or Minna or AD or Wordy or Thania would just ruin this splendid image I have of them in my mind.
And why would they want to meet me? I'm just another green shape-changing monster corrupt politician. A dime a dozen!
IoN:
Who is your favorite Islander overall?
Shelter:
No doubt about it. My wife, Gilda. Although I am her fifth husband (or is it 6th?), and I fully expect she will outlive me too, she keeps me busy. Last week we went scuba diving, mountain climbing and ballroom dancing. And all before the weekend.
IoN:
Let's dive into the person behind the keyboard – Where/when were you born?
Shelter:
I was born in Montreal (Quel raison pour parler francais) and I have lived in Toronto, Ottawa, New York, Paris, Montpellier (France), London, Cardiff and a few other places too dreary to mention. My home base right now is lovely Saskatoon, Saskatchewan, although I have no idea why. I wake up each morning and say, "What, here AGAIN???"
IoN:
Are you single, dating, married?
Shelter:
Don't tell Gilda, but in RL I have been married for many years to a lovely Scottish redhead who is smarter than me and has the temper to complement her hair.
IoN:
What is your favorite food?
Shelter:
I am omnivorous, but if I had to live on only one thing, it would likely have pasta in it
IoN:
What is your ethnic background?
Shelter:
I'm a mutt. Part this and part that. When pressed, I say, "I'm Canadian, eh?"
IoN:
You're stuck on a desert island (that's not a member of our illustrious region) and can have one book, one DVD and one compact disc – what would they be?
Shelter:
Only one!! Can I trade the DVD and CD for 2 more books? No? *pouts *
Well, of course it's impossible to decide but...
Cd: Miles Davis Kind of Blue. ( I bet you thought I would choose a Dylan album, huh?)
DVD: The Man Who Shot Liberty Valance
Book: you're still going to insist on only one! Ok then: Teach Yourself Piano Tuning
IoN:
Do you have any regrets about anything you've done, or perhaps haven't done, in the past?
Perhaps you can post this cartoon as my answer: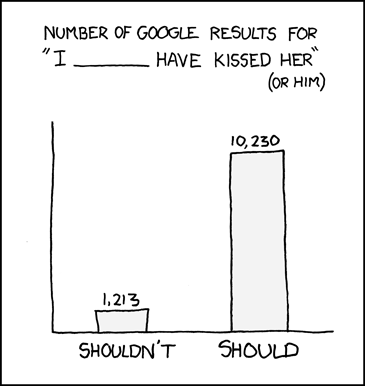 IoN:
And with that, we turn to the final ten questions, borrowed from Bernard Pivot's Apostrophes:
IoN:
What is your favorite word?
Shelter:
I am rather partial to "pandemonium"
IoN:
What is your least favorite word?
Shelter:
"Whatever"
IoN:
What turns you on?
Shelter:
The sound of my wife's laughter,
IoN:
What turns you off?
Shelter:
Political apathy, whingers and whiners, and indifference to others
IoN:
What sound or noise do you love?
Shelter:
The sound of loons on northern lakes at sunset
IoN:
What sound or noise do you hate?
Shelter:
The sound of neighbors in the apartment upstairs. I once lived below what must have been a troupe of circus musicians, elephant trainers and their creatures.
IoN:
What is your favorite curse word?
Shelter:
Bollocks!
IoN:
What profession other than your own would you like to attempt?
Shelter:
Air traffic controller, although I doubt I would last
IoN:
What profession would you not like to do?
Shelter:
Something horrible and unclean, like elephant poop collector or CEO of a bank.
IoN:
If heaven exists, what would you like to hear God say when you arrive at the pearly gates?
Shelter:
Let's let bygones be bygones, OK?