Post by XKI University on Aug 28, 2011 4:40:13 GMT -5
Hi everyone, I hope you all are well. Well here are the results of the Delegate Straw Poll!
We asked recipients the following questions!
10000 islands Delegate straw poll!

The Delegate election is approaching very quickly and we here at the University are conducting another straw poll to see who may be the front-runner in the delegate election! This is your chance to participate!

All answers will be confidential and will not be divulged to anyone other than the dean. Remember Markanite cannot run again due to term limits.

What we here at the University would like to know is:

1. Who would you most likely support if they were to run for delegate?
2. What qualities do you find important for a Delegate?

It would be great if you could answer these questions and send them back to this account (the university account) through Private message as soon as possible. Thank you very much!

If you do not wish to participate that is fine

I'd like to say Thank you to everyone who participated, I am very grateful.
1: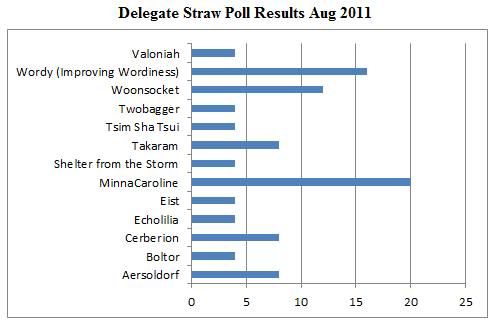 Results:
Aersoldorf: 8%
Boltor: 4%
Cerberion: 8%
Echolilia: 4%
Eist: 4%
MinnaCaroline: 20%
Shelter from the Storm: 4%
Takaram: 8%
Tsim Sha Tsui: 4%
Twobagger: 4%
Woonsocket: 12%
Wordy (Improving Wordiness): 16%
Valoniah: 4%
2: This question was answered very well and can give a great insight into what people would like to see in their delegate:
Here are some of the responses:
-Previous service in our State Department
-Nice and experienced
-open-mindedness, intellectual flexibility, a non-judgemental attitude, a complete commitment to rationalism as opposed to a belief-based ethos
-A level-headed person who is willing to discuss with the general XKI members before making a decision
-I look for stability, approachability, and a solid knowledge of the 10KI life
-I'd look for someone dedicated to the islands, who has a lot of integrity. They should also have a lot of time to devote to the game to fulfill all the duties
-I look for a delegate who is enthusiastic, happy, optimistic, helpful, honest, sincere, loyal, patriotic and a leader. I look for a delegate who is active and answers every question. Who does their job with pride and joy.
-Welcoming to new nations, willingness to listen, niceness, patience, etc
-I believe, first and foremost, that a good delegate must support all new nations to the best of their abilities. Naturally, this means they have to be very active, and have a good, well rounded knowledge of The Islands. A good delegate has to be able to respond and refer/satisfy any question that they are asked from anyone within the NationStates world. Finally a good delegate interacts with other regions that are on friendly terms with XKI, is open to creating new links with other regions, is active on both the NS and XKI forums, is active in encouraging immigration, and encourages endorsement of the sitting delegate.