Post by XKI University on Feb 22, 2012 9:53:22 GMT -5
Hi everyone, I hope you all are well. Well here are the results of the Delegate Straw Poll!
This straw poll is carried out by the University and has no affiliation to any Political Party or PAC. All responses are confidential however responses with the usernames removed can be made available on request along with the Dean's responses if necessary. Nations were picked via a random number generator and nations have the right to abstain from commenting. This is just to clarify about the straw poll as some, where confused.
The question that was asked was as follows!
10000 islands Delegate straw poll!

The Delegate election is approaching very quickly and we here at the University are conducting another straw poll to see who may be the front-runner in the delegate election! This is your chance to participate!

All answers will be confidential and will not be divulged to anyone other than the dean. Remember The Enigmatic Nation cannot run again due to term limits.

What we here at the University would like to know is:

1. Who do you want to be the next Delegate of 10000 Islands

It would be great if you could answer the question and send the answer back to this account (the university account) through Private message as soon as possible. Thank you very much!

If you do not wish to participate that is fine
Thank you to everyone who participated, I am very grateful! It means a lot that you all took the time to respond.
Now here are the results:
Aersoldorf 4.16%
Ananke II 12.48%
Anime Daisuki 4.16%
Boltor 4.16%
Cerberion 16.64%
Eist 4.16%
Free Guns For All 4.16%
Markanite 20.8%
MinnaCaroline 4.16%
Paffnia 4.16%
Tsim Sha Tsui 4.16%
Valoniah 4.16%
Woonsocket 8.32%
Abstain 4.16%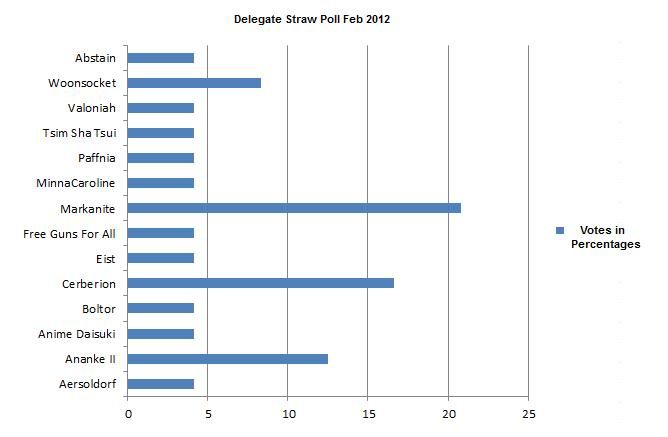 Changes
Thanks to a suggestion from Echolilia, the question was changed and made more direct, I think this was a great change. However I feel in the next straw poll, the "What qualities do you find important for a Delegate?" question could be returned to get more responses, as this question was well received in the last straw poll.
25 nations were asked the question, in the next straw poll I would like to increase this number.
I'd like to hear your responses to this and if you have any ideas or changes you'd like to see please contact me!