Post by Deleted on Aug 7, 2014 7:19:29 GMT -5
Hello everyone, and welcome to: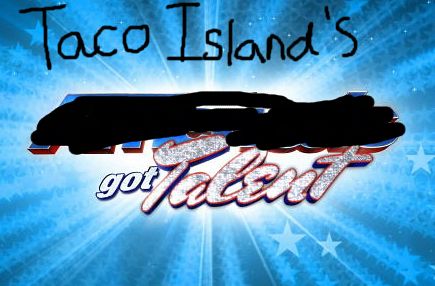 Let me welcome all of you to the show. We went through all of your audition tapes, and we were blown away by the talent that we saw here tonight! Now it's your chance to perform in front of our judges and move on to the next round! In this particular show, however, we've added a new...wrinkle. Before anyone performs their trick for the judges, all of the contestants will get together and vote on who they believe should perform next. Be warned though; our judge panel for this showing is pretty ruthless! You're much more likely to get booted from the show than move on to the next round, so it's in your better interest to vote who you believe will be the weaker opportunity for you to advance.
In simple terms:
*During each showtime, contestants will vote on who they would like to perform in front of the judges.
*During each commercial break, contestants will be preparing their tricks while special roles will go around and do their designated duties.
Also keep in mind that we've added special roles for this showing. Some of these roles may help you, while others may hurt your chances or even get YOU booted from the show after the commercial break! If you find these special roles, you'll stand a much better chance in putting on a better show for the audience. If you find the three saboteurs we've placed, then you'll be much more likely to perform your tricks without worries of having your trick ruined before you can perform it. But if the saboteurs make it with an equal number of you, then they'll steal the show for themselves. Here are the special roles here tonight:
First, let us welcome the
Amazing Larry
! Larry wowed the judges with his feats of magic and psychic prowess in his audition tape. Because of this, they've granted him a special role in helping find out what others are doing in hopes of helping the contestants put on a good and untainted show. If he finds one of the other special roles or another contestant, he can invite them to his special circle dedicated to stamping out the Saboteurs. If he finds one of the Saboteurs...well it's up to him what he'll decide to do.
Next, we have the
Heinberg twins, Josh and Jacob
! These twins are also known under the nickname Twin Thunder. Let me tell you folks, some of the stuff that we watched them break in their audition tape...my heart skipped a beat. These two have been given the special role in helping protect the contestants from the saboteurs during each commercial break. As a team, they'll decide two contestants that they want to protect, and will go all out in making sure that no damage is done to harm their trick. The only exception to this role is if Ronaldo Rodriguez' power involves making one of the twins' switch their intended target.
Speaking of which, our next special contestant is none other than
Ronaldo "Gambling Man" Rodriguez
! Before I begin, I just want to say when you hear the disclaimer "Don't try this at home," one could argue that it was because of Ronaldo that they had to start saying it. Some of the things he's done...it's something I couldn't see most people even being able to try, let alone succeeding in. Because of his astounding luck, he's been given one of the most unique roles here tonight. During each commercial break, Ronaldo's power will be used in the form of a 10 sided dice. Each number will have its own designated outcome, some that will help him, hurt him, help you, hurt you, or do nothing. Be prepared for anything. Ronaldo is the ONLY role in this game whose powers will be used automatically during each break (whether he wants it or not), though he'll still have to message me each break for some of the important details. His powers for this game are:
*Loved by the Cameras: If the dice lands on this, one of the twins (chosen by a coin flip) will have their power redirected to protect Ronaldo.
*Nothing: Nothing happens if the dice lands on this. There are 3 chances for this to happen.
*Talent Savy: if the dice lands on this, Ronaldo will have the courage to be able to perform any trick performed by another special role during the commercial break.
*Talentless Hack: If the dice lands on this, the victim (chosen by Ronaldo via role name) will become unable to perform their trick during the commercial break.
*Audience Pleaser: If the dice lands on this, another contestant (chosen by Ronaldo) will be protected by one of the twins (chosen by coin flip), instead of their intended target. Ronaldo cannot choose himself for this power.
*You can't say that on Television!: If the dice lands on this, Ronaldo will choose a word to be censored. The next opponent to say that word will be booted off the show. The word must be longer than 3 letters, cannot be "Vote" "Lynch" "Role" the name of a role, a username, or a special role's name.
*Your opinion matters!: If the dice lands on this, another contestant (chosen by Ronaldo) will have an extra vote during the next day phase. Ronaldo cannot choose himself for this power.
*Your "opinion" matters: If the dice lands on this, another contestant (chosen by Ronaldo) will have their vote taken away during the next day phase. Ronaldo cannot choose himself for this power.
Now let's have a breather after that doozy of an explanation, shall we?
...
...
...
Alright, now back to the show! Next up, we have
Franklin Mendal, Joseph Linch, and Lindsay Lohan
! They have some tricks that are sure to surprise you for this show, but don't be fooled. These are our special Saboteurs guaranteed to make this show a more interesting one. During each commercial break, they, as a team, will decide the next contestant that they'll want to sabotage before their next performance. Of course it goes without saying that its in the contestants' best interest to see these saboteurs booted from the show and exposed to the audience...it helps them and makes our ratings go through the roof!
I'm required to say that for safety purposes, the appearances of the above mentioned are being kept a secret. Contestants aren't allowed to ask who they are, and likewise the roles themselves aren't allowed to divulge who they are both in messages and in the show itself (exception being in Larry's Circle of course).
Because of this, all messages to opponents will be controlled by the staff here at T.I.G.T. Any rogue messages will be dealt with severe penalty that is sure to make the show that much harder for you.
To make the game more interesting, there's also a new wrinkle in inactivity, which we call the Quiet Clause:
If someone is inactive for two consecutive showtime, they'll have the following commercial break before they're booted. The inactive counter is then taken down to ONE consecutive showtime, meaning if they're inactive for one showtime and don't speak at any point during the next commercial break, they'll be booted from the show.
Here are the game rules in a much simpler form for your viewing pleasure:
Rules:
*The contestants will share the victory and move on to the next show only if the saboteurs are taken care of.
*The Saboteurs will steal the day if they equal the remaining amount of contestants.
*The losers are welcome to share their thoughts in the Rejected PM. As is custom in reality TV, the rejected may say one final goodbye before they leave the game itself. Rejected contestants will be filled in on the behind-the-scenes footage in the Rejected PM.
*The Heisenberg twins cannot protect someone for two consecutive commercial breaks. They may, however, choose to alternate each break.
*Ronaldo's Censor power only works until someone says the word. After that, it's fair game to say the word without consequence.
*Players who fail to respond in the commercial break after two consecutive missed Showtimes will be booted.
*Players who responded at that commercial break will have their inactivity counter reduced to ONE showtime/commercial break before they're booted.
*All messages will be controlled by the show staff. If it's discovered that contestants are messaging other contestants without our consent, penalties will be instituted.
*There are no "no lynch" rounds. A contestant must be voted to perform for each Showtime.
If there are any questions, you'll have time to ask in here. If not, then please let your presence be known in here.
Due to obligations of the staff here, the show itself will begin later today at roughly 7PM Pacific Standard time...or (assuming the forum clock uses military time) 18:00:00 forum time...so roughly 13 hours and 41 minutes from now.
Also, if you haven't messaged me with a trick, you will have time to do so. Please remember to message me with your talent BEFORE the start of the show if you'd like your own spin on things if you get picked to perform in front of the judges (by way of vote or commercial break choice).
Current Contestant list (15 total, 6 remaining):
Ayunli
Witchcraft and Sorcery
Josh Heinberg/Booted due to censorship
Sauron
Contestant/Booted
Control
Contestant/Booted
Aersoldorf
Barry
Ater Nox
Contestant/Sabotaged
ponem
Contestant/Booted
Sheynat
Campinia
Benevolent Thomas
Contestant/Disappeared
Coryo
Saboteur/Booted
Echolilia
Gun-Toting Animals
Jacob Heinberg/Booted
Randomain
Saboteur/Booted