Post by Isles de Taylor on Jul 4, 2016 13:04:06 GMT -5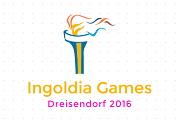 This is my big project!
I have been working with
Kortexia
,
Dominion of Compassion
and
Barry
to make this happen and it is!
So, this is a Cross Regional Games with 6 other regions invited, Greater Dienstad, Renegade Islands Alliance, Deutschland, Canada, European Union and International Northwestern Union. If you want to enter this exciting contest, here's what to do.
You have to fill out this form and post it in this thread.
Here's my one to use as an example.
Ingoldia Games Sign-Up Form


NAME OF NATION: Isles de Taylor
REGION: 10000 Islands


ATHLETES COMPETING
ATHLETICS- Male: Nick Hauer
Female: Selena De Vries
SEPAK TAKRAW- Members of team: Calum Chamberlain, Nikita Dzagoev, Ian D'Argyll
PARKOUR- Chase Lazarov (M)
BEACH SOCCER- Team Name: South Coast United
FIELD SOCCER- Team Name: Dreisendorf Academica
HANDBALL- Team Name: Striker Seven
CHESS BOXING- Male: Lawrence Harte
Female: Alexis Valentine
AQUATICS- Male: Tomas Lombardi
Female: Clare Dresden
TENNIS- Male: Coleman Villaneuva
Female: Johanna Hunt
CANOEING- Suzanne Vilani (F)
CYCLING- Track: Greg Desmond (M)
Road Race: Georgia Faroe (F)
TRIATHLON- Joanne Cotton
If you can't think of names, use this website:
random-name-generator.info/
They are awesome!
Let me give you the sport summaries.
ATHLETICS- A decathlon for the men and heptathlon for women. Athletics is the biggest sport at the games.
SEPAK TAKRAW- Kick Volleyball. Three people on a team, playing volleyball using only their feet, head, knee or chest.
PARKOUR- An obstacle course testing strength, speed and endurance. A spectator sport popular in Dreisendorf.
FIELD SOCCER- 2 teams of 11 play a 90 minute match to see who can score the most goals.
BEACH SOCCER- Just like Field Soccer, except the game is 30 minutes, has 2 teams of 5 players and is played on sand.
HANDBALL- Played indoors. This contact sport will have you watching with excitement. Two teams of 7 play this game for 60 minutes to see who can score the most goals.
CHESS BOXING- A combination of chess and boxing. 11 rounds of 3 minutes are played, 6 chess and 5 boxing, always starting and ending with chess.
CANOEING- A race in canoes to see who can paddle down a 1 KM course the quickest.
AQUATICS- A race in the swimming pool for 100M to see who can swim the quickest.
TENNIS- Two people play each other over 5 sets to see who can hit the ball with a racket in the other player's box without them returning it.
CYCLING- There are two types of race, Track Racing in the Velodrome and Road Racing in the City Center. Both have one thing in common. Whoever crosses the line first wins.
TRIATHLON- The Ultimate Challenge; Swimming, Cycling and a Marathon, all one after the other. This is the endurance test.
So, who's in?