Post by Deleted on Mar 28, 2020 1:26:01 GMT -5
Greetings heroes! My name is Chesty, and I'll be your super guide from another dimension!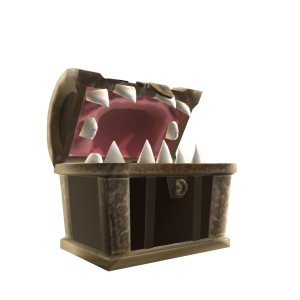 Chesty is always looking for super best friends, and I think you may have the potential!
By the way, I really like to kill things...I hope that's okay?
Moving on, I'm glad that you decided to take part in Chesty's super fun game of Werewolf. But unfortunately, I really hate to say that I lost all of my directions! I'm really hoping that my potential new-super-best-friends will help me out here in getting everything set up. It's nothing scary, really! Well...except maybe for that part with the Balverines eating some children...on second thought, forget that Chesty mentioned that!
So for this game, I'll need your help in deciding really what we should even do! By "we" I mean you of course, since Chesty will only be watching you guys compete to be Chesty's Ultra Super Special Best Friend of All Time! It's really quite an honor that comes with your very own medal with those words on it...and I should mention that I had to kill quite a few people to make the ribbon for that medal!
...anyways, now I'm rambling! Here's what Chesty needs from you: Like many super fun games that claim to be the same type as Chesty's super special fun game, you'll sign your name on a simple little contract. Chesty prefers that you write it in blood, because it shows how serious you are...and serious killers are what I like best!
Along with your name, you'll answer some equally serious questions. These questions will tailor different little things about the game. What are those things, you may ask? Chesty will tell you in time!
So, for all of my applicants to be Chesty's potential Ultra Super Special Best Friend of All Time (and future Super not-so-special dead friends of all time

), here are your questions...and remember that there's no such thing as a "right" answer, however there ARE some answers that are better than others.
Question 1: When Chesty wants to brag about you to his other super best friends, what should he call you?

Question B: Chesty is thinking of taking a vacation sometime, where should Chesty go?
A) Outer Space
B) The City
C) The Mountains
D) The Forest
E) Underwater
F) Candyland

Question the Third: Chesty heard this tag-line one time and thinks you should fill in the blanks: "Reader beware, _________"
A) For a lover's despair
B) You're in for a scare
C) For thine own welfare
D) For your mother's a bear!
E) Because life isn't fair!
F) You can't just park there!

Question Quatro: Chesty always wanted an adventure, and now he's in one! He's in a temple, but there are four different idols...which should he take?
A) The Diamond Idol
B) The Golden Idol
C) The Silver Idol
D) The Bronze Idol

Question V: Chesty loves the moonlight! What type of day do you prefer?
A) Sunny
B) Rainy
C) Snowy
D) Foggy
E) Dark and Moony
F) Cloudy
G) Stormy

Question Final: Chesty hopes that you've had fun having me as your Super Special Guide. Do you need another super special guide throughout your game? (Yes/no)
Thanks for answering all of Chesty's questions, and remember, any answer is fine as there are no wrong answers (but some that may get you killed)! We'll have some Super Special fun on
April 4th
, or whenever Chesty thinks the minimum amount of people are here to be Chesty's new super best friends (If the deadline has passed of course! Chesty wouldn't dream of ending sign ups early and missing out on even more super best friends!)
---------------------------------------------------
So as it states, you'll sign up as you normally would for a game of Werewolf (stating your interest), but you'll also answer the 6 questions above. There are no right or wrong answers, but each will pertain to a different aspect of the game: the theme, roles, gameplay tweaks, you name it. The most popular choices will dictate how the game goes...meaning this is truly going to be anyone's game at the start since even I won't know how this game will go as far as even creating it. This is a game of Choose Your Own Werewolf, where you (the players) dictate how the game turns out from the very start. What twisted fun will you end up choosing on?
And remember, signups will conclude roughly a week from today, ending on April 4th. I look forward to seeing what this game will turn into!
Current Adventurers:
*Gaming User (Marxist Germany)
*Tuga Nation's Dragon
*Eastern New England
*Ayunli
*Louisistan
*Ammotangandia
*Andaristiva
*Markanite
*Grea Kriopia
*Echolilia
*United Royal Islands
*Dorab
*Aersoldorf